Tenant Resources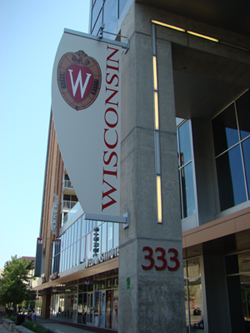 The University of Wisconsin-Madison Student Services Tower in the University Square complex, located at 333 East Campus Mall, is a place for students, faculty, and staff. This multi-use building is located sabove two floors of retail space, and includes nine floors of vital and vibrant student space and campus offices, and the largest green roof in Madison.
Whether you need a transcript, a flu shot, financial aid information, a course packet, or simply a relaxing place to study with friends, 333 is the place to be.
Special Holiday Hours
Floors 3-4
Student Activity Center: Floors 3 & 4 | http://asm.wisc.edu | (608) 265-4276
Semester hours
Monday-Thursday: 8am-midnight
Friday: 8am-9pm
Saturday: 10am-9pm
Sunday: 10am-midnight
Summer hours
Monday-Friday: 10am-7pm
SAC hours and facility policies »
The SAC is generally closed over winter break, spring break and most holidays. Please check the SAC website for any updates: http://www.asm.wisc.edu/sac.html
Primary Services - Associated Students of Madison, Student Government Offices, Student Business Incubator, Meeting Spaces for Registered Student Organizations (RSOs), Kitchen for RSOs, Study areas including a lounge with fireplace, Large Event Multipurpose Room, Student Art Gallery, Rooftop Deck.
Student Print: Floor 3, 3301 | http://www.stuprint.org/ | (608) 262-6216
Semester: M-F, 9:30am-6:30pm Summer Break: M-F, 10am-4:30pm
Primary Services - Student run, nonprofit print shop. Print and copying services in black and white or color, faxing and course readers at low prices. Graphic design services available to create posters, business cards, brochures and more. Distribution site for the ASM bus pass.
WSUM Student Radio: Floor 4 | http://wsum.org | (608) 262-1864 | Open 24/7
Primary Services - Be a DJ, news reporter or talk show host. Promote your band. Hang out with cool people.
Floors 5-8
University Health Services: www.uhs.wisc.edu | (608) 265-5600
Medical Services: Year-round, Monday, Tuesday, Thursday, Friday 8:30 a.m. to 5:00 p.m., Wednesday 9:00 a.m. to 5:00 p.m.
Mental Health Services: Year-round, Monday, Tuesday, Thursday, Friday 8:30 a.m. to 5:00 p.m. Wednesday, 9:30 a.m. to 5:00 p.m.
(F5) Primary care, Sports medicine, Blue Bus STI Clinic
(F6) Allergy/immunization, Women's Clinic, Dermatology, Pharmacy
(F7) Couseling and Consultation Services, Student Health Insurance Plan
(F8) Medical Records, Budget and Finance, Environmental Health, Prevention Services
Floors 9-11
Office of Student Financial Aid: Floor 9, 9701 | www.finaid.wisc.edu | (608) 262-3060
Monday - Friday 7:45 a.m. to 4:30 p.m.
Primarcy Services - Financial aid applications and awards (room 9701), student employment (9101)
Bursar's Office: Floor 10, 10501 | http://bussvc.wisc.edu/bursar | (608) 262-3611 Student accounts and cashiering; (608) 262-1791 Student Loans
Cashier window open 7:45 a.m. to 4:00 p.m.
Primary services - Tuition bills and tuition account payments, financial aid, loan, and scholarships posting to student tuition accounts, financial aid and tuition account refund checks, loan repayment, key deposits and refunds.
Office of the Registrar: Floors 10 & 11 | http://registrar.wisc.edu | (608) 262-3811
* Transcripts and Certification (10101)
* Enrollment and Student Veteran Services (10301)
* Degree Audit and Diploma Services (11101)
* Student Records (11101)
* Information Services (11201)
* Curricular Services (11301)
* Division of Enrollment Management & Office of the Vice Provost (11601)
Student Information Systems (SIS): Floor 11, 11401 & 11501 | https://sis.wisc.edu/
Primary Services - Administration offices (11401) and SIS Training Room (11501)
Office of the Provost/Enrollment Management: Floor 11, 11601 | http://provost.wisc.edu/ | (608) 262-3964
Primary Services - Administrative offices for the Division of Enrollment Managment
702 W. Johnson Street, Suite 2104
McBurney Disability Resource Center: http://www.mcburney.wisc.edu/ | (608 )263-2741
Monday-Friday, 8:00 a.m. to 4:30 p.m.
702 W. Johnson Street, Suite 1101
Admissions: http://www.admissions.wisc.edu/ | (608 )262-3961